"Make it Personal" Embroidery Shop & Screen Printing
We are a local, family owned and operated, Embroidery Shop and Screen Printing facility, located in Manvel, TX, and pride ourselves in great customer service, that only comes from a small business looking to make each customer happy and form lasting business relationships.
Recently our embroidery shop has moved from our previous location of 9 years on Motel Street in Alvin, TX, to our new larger location just a few miles down the road. With our new facility we can serve you better. Come by to see us, and take a look behind the curtain where you can see the impressive computerized embroidery machines hard at work.
Our Embroidery Shop specializes in creating logo designs for our customers using our vast  design catalog, or custom designs from our on-site artist. We also use the latest embroidery digitizing software to transform your own designs into logos or monograms, using our computerized embroidery or screen printing machines.  We can apply your design to shirts, caps, scrubs, or other apparel. You have the convenience to choose apparel from our catalog of top brands.
Our customers include, schools, churches, sports teams, marketing departments, refineries and plants, local business, medical and dental offices, restaurants, and any business looking to customize their look with their business identity.
Come see us, or give us a call or email to get your project started. We look forward to giving you great customer service for many years to come.
Kindest Regards,
Patty Cox
Handmade Baby Quilts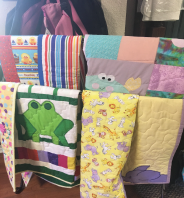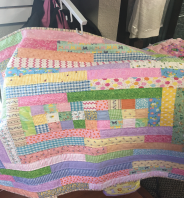 Please stop by our shop to see the one-of-a-kind baby quilts. These are handmade by two elderly sisters in Arkansas. Every quilt is an original, no two are alike, and they're of exceptional quality. You must come by to see and feel them. Rub one on your cheek to feel the softness.
Debbie V. says: "There are superb! The quilt I bought will be treasured for a life time by my daughter and new grandbaby, and no one else has one like it, it is truly unique, and so soft and beautiful!"
We are located just south of the intersection of Hwy 6 and Masters Rd. on the southbound side.
Location
20330 Hwy 6
Manvel, TX 77578
Hours
Tuesday-Friday: 10am-5pm
Saturday: 10am-2pm
Closed: Sun-Mon
Email